Kannaway is The Worlds Premier Cannabis Company

A proud member of the US Hemp Authority, Kannaway is a company that manufactures and markets some of the world's most important wellness innovations, sourced from one of the earth's oldest natural resources - cannabis.

For most of the 20th century, cannabis plants, such as industrial hemp, were widely misunderstood, which lead to many people not seeing the
incredible potential it holds. With thousands of practical uses, including wellness, nutrition, fibers, textiles, and environmentally friendly
construction materials, Kannaway's goal is to help make hemp an essential part of commerce and agriculture once again. With this goal in mind and driven by a small group of hemp pioneers, Kannaway began our journey to bring cannabis solutions back to the world again.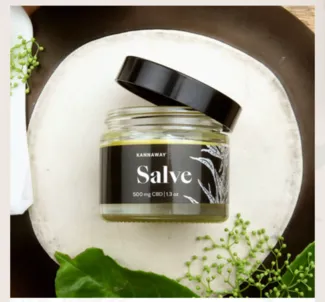 Salve
Whether you live an active lifestyle or want youthful, healthy looking skin, Kannaway Salve (500 mg) is exactly what you need. It contains a unique ancient Asian herbal formula that works synergistically with hemp oil for ultimate results. This revolutionary combination of hemp oil is supportive of all skin types.
CBD
Pure CBD Liquid is crafted with pure CBD compounds to deliver the natural wellness benefits of hemp oil with the reassurance of non-detectable levels of THC. This colorless, odorless oil invigorates your system while promoting overall homeostasis. Available in a compact 1 oz bottle, this Pure CBD Liquid contains 2500 mg of CBD – over 83 mg of CBD per 1 mL serving – combined with MCT oil. Enjoy under the tongue for fastest absorption, or mix it into your favorite smoothies or other foods and beverages.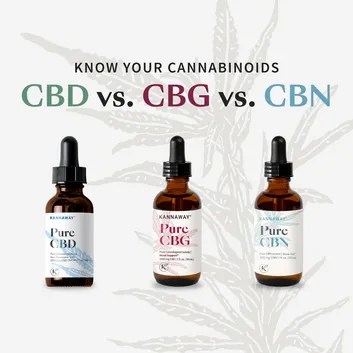 CBG
Experience the unique mood-supporting benefits of CBG, a previously untapped hemp cannabinoid that positively influences your endocannabinoid system in a whole new way. CBG, known as the "mother cannabinoid" of which all other cannabinoids originate from, is the next big trend in cannabis wellness. In this revolutionary 1 oz bottle made up of hemp's finest, we blend 1000 mg of pure CBG compounds into nutritious MCT oil. Our rigorous, industry-leading Triple Lab Tested™ Process verifies its quality and consistency.
CBN
With its tranquil blend of isolated CBN and sustainably-sourced medium-chain triglyceride (MCT) oil, Pure CBN Gel Caps make bedtime that much better. Each gel capsule contains 20 mg of pure CBN, known as the "sleepy cannabinoid" for naturally promoting a better nocturnal rest. MCT oil helps CBN interact with your body's systems more quickly. Enjoy one capsule an hour or so before bed to upgrade your nighttime routine.
Pure Gold CBD
Our gold standard. Our product which is noted in the Physicians Desk Reference Guide is the most concentrated product within Kannaway's popular Pure Gold line, delivering an incredible 2000 mg of CBD in each 4-ounce bottle -- roughly 67 mg of CBD per serving. Pure Gold 2000 mg is made with our highly sought-after broad-spectrum hemp oil to present the invaluable balancing benefits of CBD and hemp oil with the reassurance of non-detectable amounts of THC. Kannaway Pure Gold 2000 mg has been officially certified by BSCG (Banned Substances Control Group), well regarded by athletes and sports organizations and considered by many to be the gold standard in the dietary supplement and natural products industry. Combined with nutritious MCT oil to naturally enhance bioavailability, this gold-colored CBD oil can be enjoyed on its own or added to smoothies or other foods and beverages.